Dr. Bryan T. Kelly
Professor of Orthopedic Surgery
Surgeon-in-Chief Hospital for Special Surgery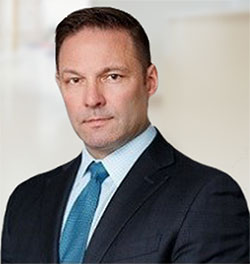 Dr. Bryan T. Kelly is a specialist in sports medicine injuries and arthroscopic and open surgical management of non-arthritic disorders around the hip. He is Surgeon-in-Chief and Medical Director at Hospital for Special Surgery and a Professor of Orthopedic Surgery at New York Presbyterian's Weill Cornell Medical College. He cares for several sports teams, serving as Head Team Physician for the New York Rangers, Head Orthopedic Consultant for the UFC, an Associate Team Physician for the New York Giants, and the New York Red Bull's MLS team, as well as team Consultant for hip injuries for several collegiate teams in the tri-state region.
After the completion of his residency at HSS in 2001, Dr. Kelly completed a two year fellowship at the Hospital for Special Surgery, specializing in Sports Medicine and Shoulder Surgery. Dr. Kelly then completed a fellowship in Hip Sports Injuries and Arthroscopy at the University of Pittsburgh Medical Center, Center for Sports Medicine, under the direction of Dr. Marc J. Philippon, MD. Prior to starting his practice he also completed an AO International Traveling Fellowship where he spent time with Dr. Herbert Resch at the Landeskliniken Hospital in Salzburg, Austria, as well as with Professor Reinhold Ganz in Bern, Switzerland studying advanced techniques in open management of hip and shoulder injuries.
Dr. Kelly previously served as co-Director for the Center for Hip Preservation which was designed to provide multi-disciplinary care for patients at all levels with hip injuries. This has evolved into the Hip Preservation Service. He has a broad range of both clinical and basic science research interests including the development of a clinical outcomes registry; biomechanical studies evaluating conflict patterns in femoroacetabular impingement and techniques in labral refixation; development of synthetic scaffolds for labral reconstruction and cartilage injuries in the hip; and the development of novel surgical techniques for managing soft tissue injuries around the hip joint. He has authored over 140 scientific publications, chapters, review articles, and books.
His current clinical areas of expertise include:
Arthroscopic and open management of femoroacetabular impingement
Management of hip chondral and labral injuries
Hip instability / snapping hip syndromes
Abductor repairs (gluteus medius / minimus)
Proximal femoral reconstruction
Proximal hamstring ruptures and proximal hamstring syndrome
Other soft tissue injuries around the hip (hip flexor injuries; adductor injuries; lower abdominal injuries / sports hernias).
Stem Cell Injections
Appointments
Surgeon-in-Chief, Hospital for Special Surgery
Professor of Orthopaedic Surgery, Weill Medical College of Cornell University
Specialty
Orthopedic Surgery
Certification
American Board of Orthopaedic Surgery
State Licensure
New York, New Jersey and Connecticut
Education
BA/BS, Brown University, Providence, Rhode Island
MD, Duke University School of Medicine, Durham, North Carolina, US
Internship
New York-Presbyterian Hospital, General Surgery, New York, US
Residency
Hospital for Special Surgery, Orthopaedic Surgery, New York, US
Fellowship
Hospital for Special Surgery, Sports Medicine and Shoulder, New York, US
University of Pittsburgh Medical Center, Hip Sports Injuries, Pittsburgh, Pennsylvania, US
AO Trauma Fellowship, Landeskliniken, Salzburg, Austria
Awards
2014 Co-Investigator -RO1 NIH Grant -Studying the Comparative Effectiveness of FAI arthroscopy
OREF Zimmer Orthopaedic Surgery Career Development Award
Charles S. Neer Award for Excellence in Shoulder Research
Philip D. Wilson Award for Excellence in Orthopaedic Surgery Research
Lewis Clark Wagner Award for Excellence in Orthopaedic Surgery Research
Jean C. McDaniel Resident Teaching Award
Nancy Kane Bischoff Award
AOSSM Herodicus Award
AOSSM Excellence in Research Award
Affiliations
Member, American Orthopaedic Society for Sports Medicine
Member, American Medical Association
Member, American Academy of Orthopaedic Surgeons
Member, Medical Society of the State of New York
Member, International Society for Hip Arthroscopy
Member, Association of Bone and Joint Surgeons
To know more about Dr Kelly please click here
Dr. Kelly's Office
The Pavilion, First Floor
541 East 71st Street
New York, NY 10021
Phone: (212) 606-1159
Fax: (646) 797-8865